Anyone who has analyzed historical NBA draft picks should know that translating college success to the NBA is never a sure thing. No matter how good the scout, GM, or draft model, there is still a high level of uncertainty involved in predicting NBA success.
Therefore, my goal with this year's draft model is to highlight this uncertainty. By putting less emphasis on a single number, and more emphasis on the range of outcomes, our evaluation of players can be more representative of the roll of the dice that NBA teams actually face.
If you just want results, jump ahead to the 2018 rankings!
---
---
The models described below are based on custom statistics derived from player game log data1 while controlling for efficiency (minutes), level of competition (opponent), and situation (team). These are viewed as enhanced variations of pace and minute adjusted numbers, as they have an ability to better capture a players ability in situations where a coach (defensive system) or opponent (playing style) might be impacting statistical performance. Additionally, by factoring in individual game performances, strong (or weak) performances against the best competition are not lost in season averages. Other inputs also include scouting (high school ranking) and player characteristics (age, height, weight, combine).
Quant is a gradient boosting quantile regression model which predicts a players NBA peak single season win shares. By using a quantile regression model, it allows you to evaluate predictions across quantiles, highlighting differences in risk and upside.
By looking at the 25th, 50th, 75th, and 90th percentile outcomes for a player we can see that a player like Markelle Fultz might have a slightly higher upside (q90) than Jayson Tatum, but a slightly lower median expected outcome (q50).

While I recommend focusing on the full spectrum of Quant outcomes, I realize there are times when a single number is unavoidable (i.e. draft board rank). Therefore, APEX is a single number interpretation of Quant. Given that star players are so important in the NBA, APEX is calculated by averaging the higher upside outcomes (q75 and q90). In cases where a player has multiple season's worth of pre-NBA data, the players overall APEX value is a minute weighted average of all APEX values.
Below are the top 25 players as rated by APEX.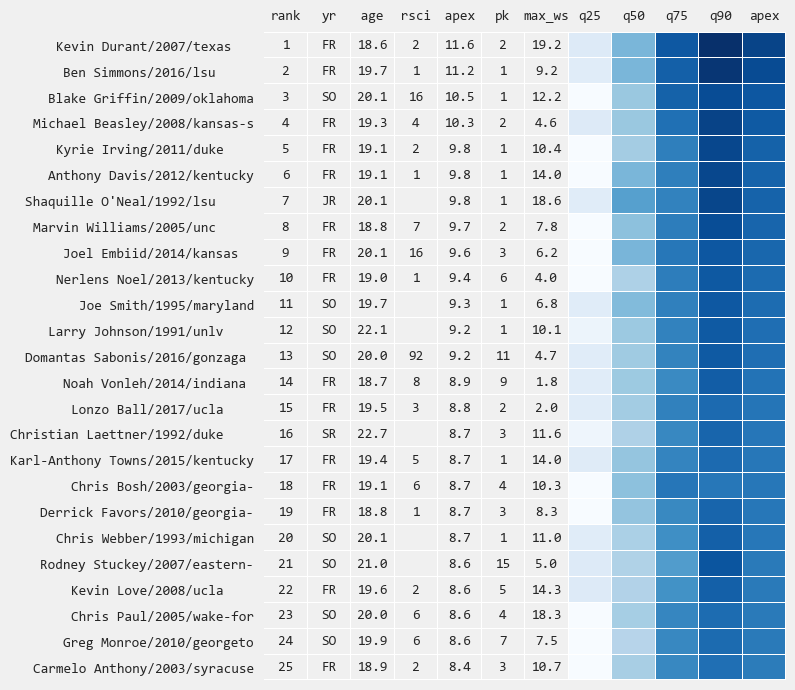 While there is room for improvement, historical (out of sample) results below show that, in general, performance is quite good.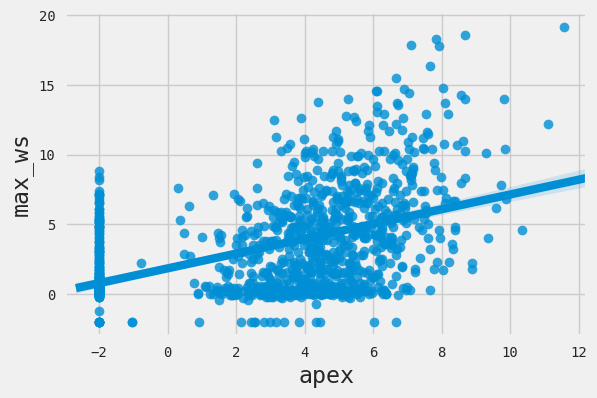 Star is a classification model which predicts the probability of being an All Star (star), Starter (start), Role Player (role), or Bust (bust).2 The advantage of the Star model is that the results are intuitive, however keep in mind that being a Starter or Role Player in the NBA is sometimes about situation and does not imply success or efficiency (which is what is captured in the Quant model).
Below you can see that Greg Oden had a wide range of outcomes with a higher probability of being either a bust or a star, whereas Kevin Durant had a more narrow range of outcomes and a smaller probability of becoming a bust.

To give insight into playing style and NBA combine comparables, I have a K-nearest neighbor model which shows historical players that are most similar. Below we can see that Trae Young and Steph Curry are indeed similar, however they do have some key differences in assists and steals.

---
Below you can see the top 60 APEX rated players and the complete Top 100 can be found here.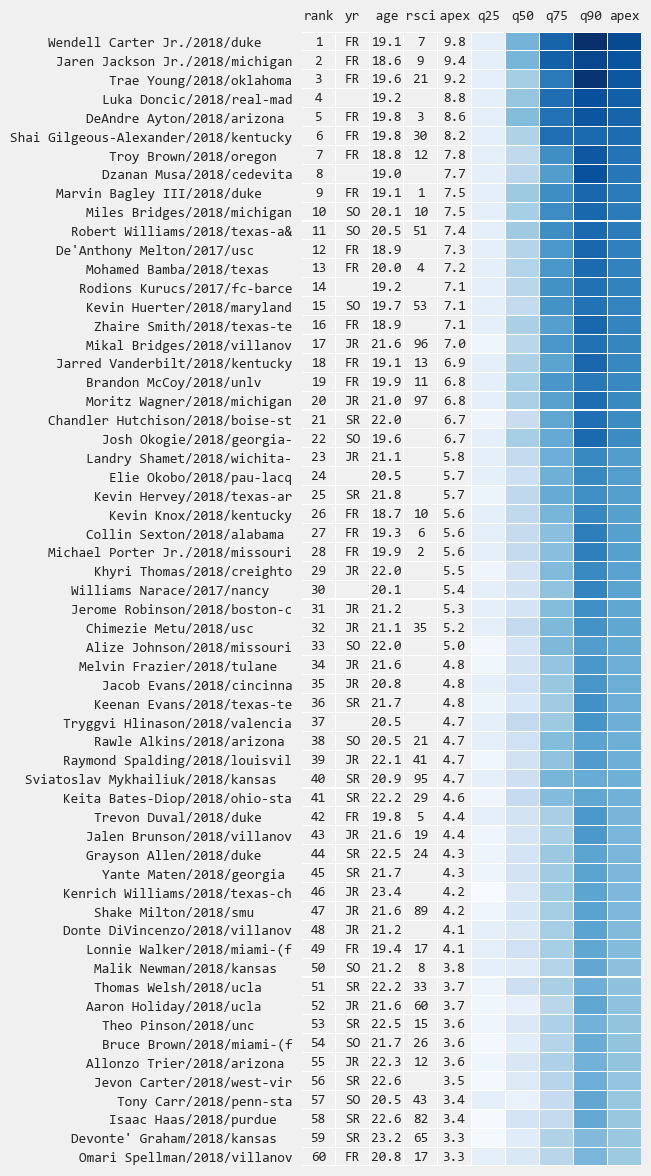 ---
Below is a heat map showing a players strengths and weaknesses which can help you understand why the models might view a player a particular way. See the glossary for any non-obvious column names. The complete list of Guards in the Top 100 can be found here.

You can find the complete Top 100 here.

---
Below are the players with the highest NBA All Star potential probability.
Notice how Shai has a high probability of being a solid starter, however a lower All Star potential compared to some other risker players.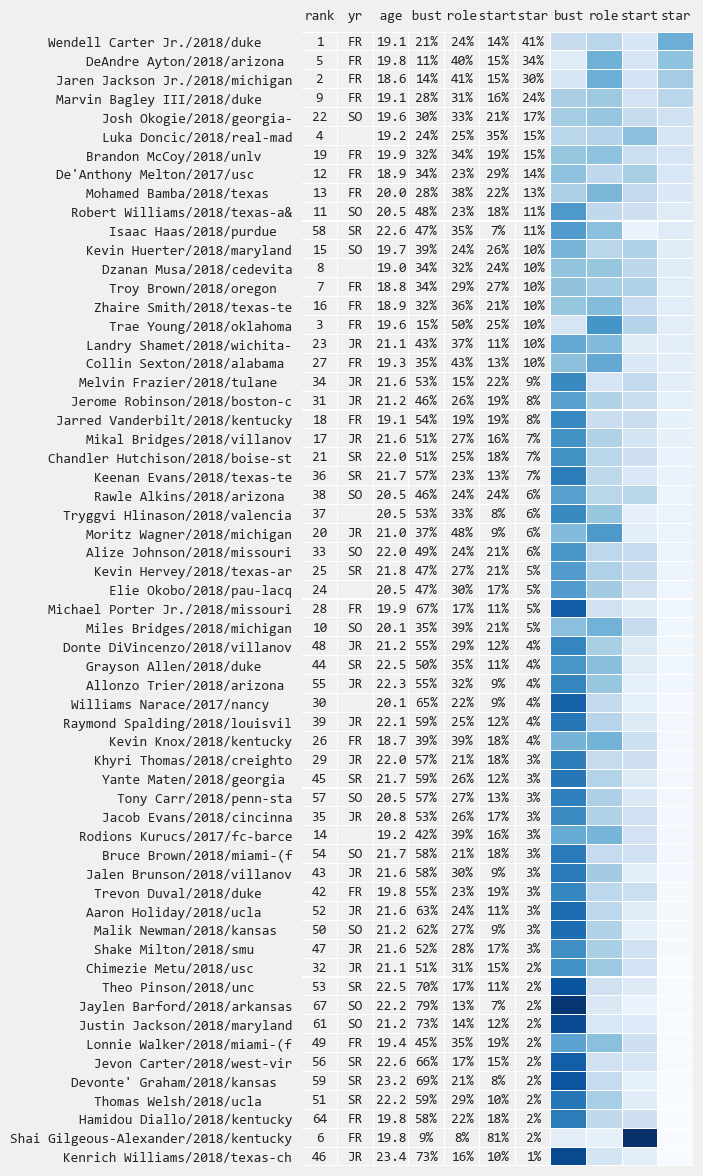 ---
Here is how APEX ranks players in comparison with various draft boards (all updated on 6/18):
Contact me on Twitter if you think another ranking should be included. The table includes players who appeared in the Top 60 on any of the draft boards.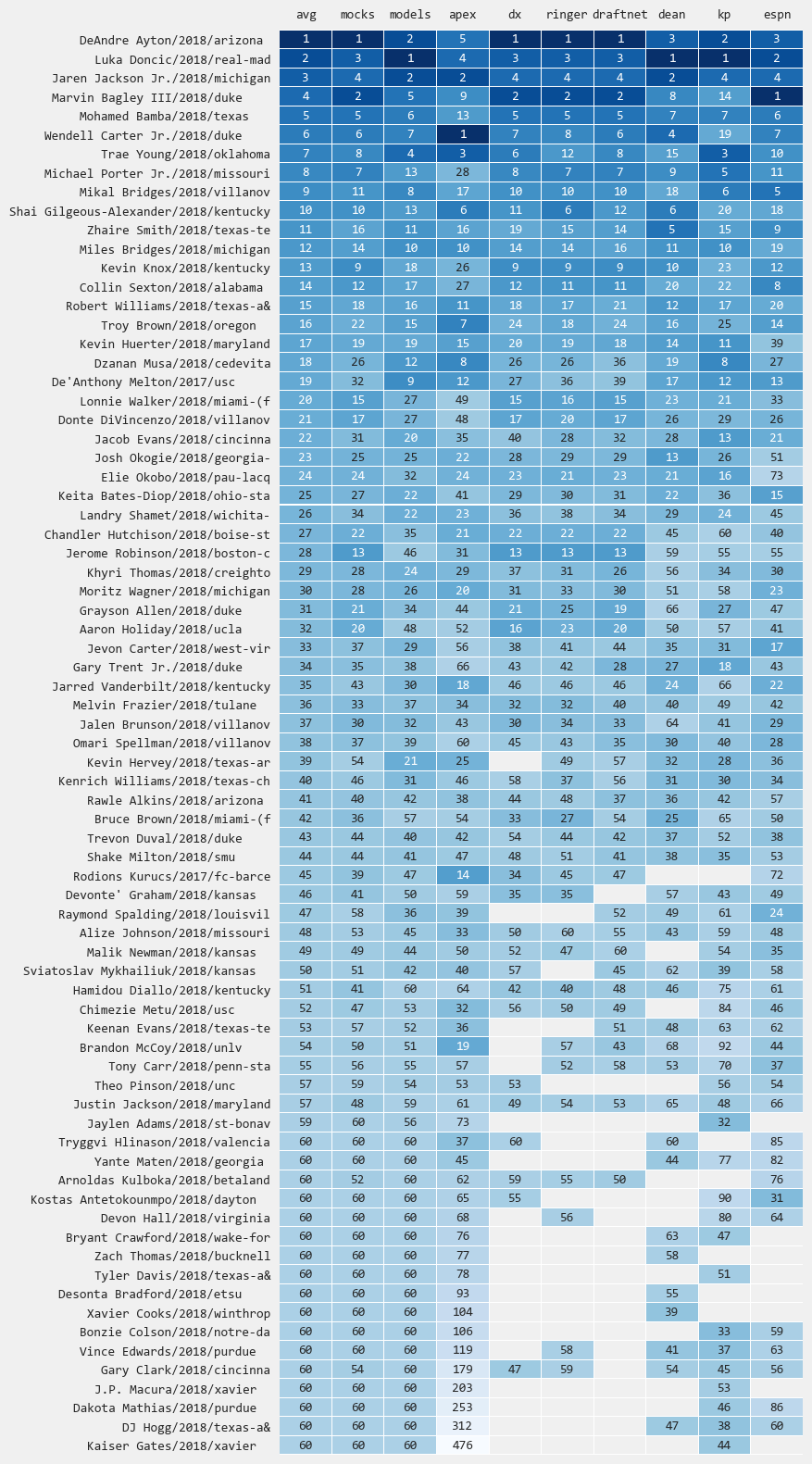 ---
Below you can find lots of information about top players including:
Statistical Profile - visualize the strengths, weaknesses, and growth trajectory of individual players over their college careers
Playing Style Comps - find the most similar player seasons compared to the potential draftees most recent season, which can keep you honest on a players expected outcome
Combine Comps - find the most similar players in terms of physique and athleticism
Draft Model Likes/Dislikes - gain a better understanding as to why my draft model might be ranking a player higher/lower than expected3
---
FR | F | 6-8 | 251 | rsci: 7 | s-ref | realgm

Statistical Profile

Playing Style Comps

Combine Comps

Draft Model Likes
age
drb rate
height
Draft Model Dislikes
3p rate
scoring rate
stl rate
---
FR | F | 6-9 | 236 | rsci: 9 | s-ref | realgm

Statistical Profile

Playing Style Comps

Combine Comps

Draft Model Likes
age
shooting efficiency
2p shooting
Draft Model Dislikes
3p rate
stl rate
ast rate
---
FR | G | 6-0 | 177 | rsci: 21 | s-ref | realgm

Statistical Profile
Playing Style Comps

Combine Comps

Draft Model Likes
scoring rate
age
drb rate
Draft Model Dislikes
stl rate
shooting efficiency
2p shooting
---
G | 6-6 | 225 | s-ref | realgm

Statistical Profile

Playing Style Comps

Combine Comps

Draft Model Likes
age
2p shooting
ast rate
Draft Model Dislikes
3p shooting
scoring rate
stl rate
---
FR | F | 6-11 | 247 | rsci: 3 | s-ref | realgm

Statistical Profile

Playing Style Comps

Combine Comps

Draft Model Likes
age
drb rate
scoring rate
Draft Model Dislikes
stl rate
ft rate
ft shooting
---
FR | G | 6-4 | 180 | rsci: 30 | s-ref | realgm

Statistical Profile

Playing Style Comps

Combine Comps

Draft Model Likes
stl rate
age
weight
Draft Model Dislikes
drb rate
ft shooting
shooting efficiency
---
FR | F | 6-5 | 208 | rsci: 12 | s-ref | realgm

Statistical Profile

Playing Style Comps

Combine Comps

Draft Model Likes
age
stl rate
ast rate
Draft Model Dislikes
ft shooting
shooting efficiency
scoring rate
---
G | 6-7 | 192 | s-ref | realgm

Statistical Profile

Playing Style Comps

Combine Comps

Draft Model Likes
age
height
weight
Draft Model Dislikes
ft shooting
shooting efficiency
drb rate
---
FR | F | 6-9 | 231 | rsci: 1 | s-ref | realgm

Statistical Profile

Playing Style Comps

Combine Comps

Draft Model Likes
age
shooting efficiency
2p shooting
Draft Model Dislikes
ast rate
drb rate
stl rate
---
SO | G | 6-5 | 220 | rsci: 10 | s-ref | realgm

Statistical Profile

Playing Style Comps

Combine Comps

Draft Model Likes
age
ast rate
shooting efficiency
Draft Model Dislikes
scoring rate
stl rate
ft rate
---
SO | F | 6-7 | 234 | rsci: 51 | s-ref | realgm

Statistical Profile

Playing Style Comps

Combine Comps

Draft Model Likes
ast rate
drb rate
2p shooting
Draft Model Dislikes
weight
ft rate
age
---
FR | G | 6-2 | 193 | s-ref | realgm

Statistical Profile

Playing Style Comps

Combine Comps

Draft Model Likes
age
stl rate
drb rate
Draft Model Dislikes
height
ft shooting
scoring rate
---
FR | F | 6-11 | 225 | rsci: 4 | s-ref | realgm

Statistical Profile

Playing Style Comps

Combine Comps

Draft Model Likes
age
drb rate
shooting efficiency
Draft Model Dislikes
ft shooting
ft rate
ast rate
---
F | 6-8 | 187 | s-ref | realgm

Statistical Profile

Playing Style Comps

Combine Comps

Draft Model Likes
2p shooting
age
ast rate
Draft Model Dislikes
ft shooting
ft rate
drb rate
---
SO | G | 6-6 | 194 | rsci: 53 | s-ref | realgm

Statistical Profile

Playing Style Comps

Combine Comps

Draft Model Likes
2p shooting
shooting efficiency
age
Draft Model Dislikes
stl rate
scoring rate
drb rate
---
FR | G | 6-2 | 198 | s-ref | realgm

Statistical Profile

Playing Style Comps

Combine Comps

Draft Model Likes
age
shooting efficiency
2p shooting
Draft Model Dislikes
ft shooting
height
drb rate
---
JR | G | 6-5 | 188 | rsci: 96 | s-ref | realgm

Statistical Profile

Playing Style Comps

Combine Comps

Draft Model Likes
stl rate
shooting efficiency
2p shooting
Draft Model Dislikes
tov rate
height
age
---
FR | F | 6-7 | 211 | rsci: 13 | s-ref | realgm

Statistical Profile

Playing Style Comps

Combine Comps

Draft Model Likes
age
ast rate
drb rate
Draft Model Dislikes
ft shooting
shooting efficiency
2p shooting
---
FR | F | 6-11 | 250 | rsci: 11 | s-ref | realgm

Statistical Profile

Playing Style Comps

Combine Comps

Draft Model Likes
age
scoring rate
3p shooting
Draft Model Dislikes
2p shooting
ast rate
shooting efficiency
---
JR | F | 6-10 | 241 | rsci: 97 | s-ref | realgm

Statistical Profile

Playing Style Comps

Combine Comps

Draft Model Likes
drb rate
stl rate
height
Draft Model Dislikes
tov rate
3p shooting
ast rate
---
SR | G | 6-5 | 187 | s-ref | realgm

Statistical Profile

Playing Style Comps

Combine Comps

Draft Model Likes
drb rate
ast rate
ft rate
Draft Model Dislikes
2p shooting
shooting efficiency
age
---
SO | G | 6-3 | 210 | s-ref | realgm

Statistical Profile

Playing Style Comps

Combine Comps

Draft Model Likes
age
scoring rate
stl rate
Draft Model Dislikes
height
shooting efficiency
2p shooting
---
JR | G | 6-4 | 188 | s-ref | realgm

Statistical Profile

Playing Style Comps

Combine Comps

Draft Model Likes
2p shooting
shooting efficiency
ast rate
Draft Model Dislikes
age
stl rate
scoring rate
---
G | 6-1 | 177 | s-ref | realgm

Statistical Profile

Playing Style Comps

Combine Comps

Draft Model Likes
shooting efficiency
2p shooting
scoring rate
Draft Model Dislikes
height
weight
stl rate
---
SR | F | 6-6 | 211 | s-ref | realgm

Statistical Profile

Playing Style Comps

Combine Comps

Draft Model Likes
drb rate
ft shooting
height
Draft Model Dislikes
scoring rate
2p shooting
age
---
FR | F | 6-7 | 212 | rsci: 10 | s-ref | realgm

Statistical Profile

Playing Style Comps

Combine Comps

Draft Model Likes
age
height
weight
Draft Model Dislikes
stl rate
scoring rate
ast rate
---
FR | G | 6-0 | 183 | rsci: 6 | s-ref | realgm

Statistical Profile

Playing Style Comps

Combine Comps

Draft Model Likes
age
scoring rate
3p shooting
Draft Model Dislikes
height
drb rate
stl rate
---
FR | F | 6-9 | 211 | rsci: 2 | s-ref | realgm

Statistical Profile

Playing Style Comps

Combine Comps

Draft Model Likes
stl rate
age
height
Draft Model Dislikes
ast rate
2p shooting
shooting efficiency
---
JR | G | 6-2 | 198 | s-ref | realgm

Statistical Profile

Playing Style Comps

Combine Comps

Draft Model Likes
2p shooting
shooting efficiency
stl rate
Draft Model Dislikes
ft rate
drb rate
age
---
F | 6-6 | 202 | s-ref | realgm

Statistical Profile

Playing Style Comps

Combine Comps

Draft Model Likes
stl rate
age
2p shooting
Draft Model Dislikes
ft shooting
height
ast rate
---
JR | G | 6-4 | 188 | s-ref | realgm

Statistical Profile

Playing Style Comps

Combine Comps

Draft Model Likes
2p shooting
shooting efficiency
ast rate
Draft Model Dislikes
age
drb rate
stl rate
---
JR | F | 6-8 | 219 | rsci: 35 | s-ref | realgm

Statistical Profile

Playing Style Comps

Combine Comps

Draft Model Likes
height
shooting efficiency
2p shooting
Draft Model Dislikes
ast rate
stl rate
drb rate
---
SO | F | 6-7 | 216 | s-ref | realgm

Statistical Profile

Playing Style Comps

Combine Comps

Draft Model Likes
drb rate
ast rate
weight
Draft Model Dislikes
ft rate
stl rate
age
---
JR | G | 6-4 | 198 | s-ref | realgm

Statistical Profile

Playing Style Comps

Combine Comps

Draft Model Likes
shooting efficiency
2p shooting
stl rate
Draft Model Dislikes
ft rate
scoring rate
age
---
JR | G | 6-4 | 199 | s-ref | realgm

Statistical Profile

Playing Style Comps

Combine Comps

Draft Model Likes
ft rate
stl rate
3p rate
Draft Model Dislikes
height
scoring rate
age
---
SR | G | 6-1 | 183 | s-ref | realgm

Statistical Profile

Playing Style Comps

Combine Comps

Draft Model Likes
shooting efficiency
2p shooting
scoring rate
Draft Model Dislikes
drb rate
stl rate
age
---
F | 6-11 | 252 | s-ref | realgm

Statistical Profile

Playing Style Comps

Combine Comps

Draft Model Likes
scoring rate
stl rate
height
Draft Model Dislikes
weight
ft shooting
drb rate
---
SO | G | 6-2 | 217 | rsci: 21 | s-ref | realgm

Statistical Profile

Playing Style Comps

Combine Comps

Draft Model Likes
stl rate
ft rate
3p rate
Draft Model Dislikes
drb rate
2p shooting
shooting efficiency
---
JR | F | 6-9 | 215 | rsci: 41 | s-ref | realgm

Statistical Profile

Playing Style Comps

Combine Comps

Draft Model Likes
stl rate
height
weight
Draft Model Dislikes
2p shooting
drb rate
age
---
SR | G | 6-6 | 211 | rsci: 95 | s-ref | realgm

Statistical Profile

Playing Style Comps

Combine Comps

Draft Model Likes
stl rate
ast rate
height
Draft Model Dislikes
ft shooting
drb rate
shooting efficiency
---
SR | F | 6-7 | 223 | rsci: 29 | s-ref | realgm

Statistical Profile

Playing Style Comps

Combine Comps

Draft Model Likes
drb rate
ast rate
ft shooting
Draft Model Dislikes
weight
stl rate
age
---
FR | G | 6-1 | 191 | rsci: 5 | s-ref | realgm

Statistical Profile

Playing Style Comps

Combine Comps

Draft Model Likes
stl rate
age
ast rate
Draft Model Dislikes
ft shooting
shooting efficiency
drb rate
---
JR | G | 6-1 | 198 | rsci: 19 | s-ref | realgm

Statistical Profile

Playing Style Comps

Combine Comps

Draft Model Likes
shooting efficiency
2p shooting
ft shooting
Draft Model Dislikes
weight
age
stl rate
---
SR | G | 6-3 | 198 | rsci: 24 | s-ref | realgm

Statistical Profile

Playing Style Comps

Combine Comps

Draft Model Likes
stl rate
ft rate
2p shooting
Draft Model Dislikes
drb rate
scoring rate
age
---
SR | F | 6-7 | 246 | s-ref | realgm

Statistical Profile

Playing Style Comps

Combine Comps

Draft Model Likes
scoring rate
ast rate
ft shooting
Draft Model Dislikes
usg rate
age
stl rate
---
JR | G | 6-6 | 200 | s-ref | realgm

Statistical Profile

Playing Style Comps

Combine Comps

Draft Model Likes
stl rate
ast rate
height
Draft Model Dislikes
scoring rate
shooting efficiency
age
---
JR | G | 6-4 | 207 | rsci: 89 | s-ref | realgm

Statistical Profile

Playing Style Comps

Combine Comps

Draft Model Likes
drb rate
ft rate
3p shooting
Draft Model Dislikes
shooting efficiency
age
2p shooting
---
JR | G | 6-3 | 200 | s-ref | realgm

Statistical Profile

Playing Style Comps

Combine Comps

Draft Model Likes
shooting efficiency
2p shooting
drb rate
Draft Model Dislikes
height
scoring rate
age
---
FR | G | 6-3 | 196 | rsci: 17 | s-ref | realgm

Statistical Profile

Playing Style Comps

Combine Comps

Draft Model Likes
age
ast rate
weight
Draft Model Dislikes
2p shooting
shooting efficiency
drb rate
---
SO | G | 6-2 | 189 | rsci: 8 | s-ref | realgm

Statistical Profile

Playing Style Comps

Combine Comps

Draft Model Likes
shooting efficiency
drb rate
ft shooting
Draft Model Dislikes
3p shooting
height
age
---
SR | C | 6-11 | 254 | rsci: 33 | s-ref | realgm

Statistical Profile

Playing Style Comps

Combine Comps

Draft Model Likes
drb rate
height
stl rate
Draft Model Dislikes
ft rate
shooting efficiency
age
---
JR | G | 5-11 | 187 | rsci: 60 | s-ref | realgm

Statistical Profile

Playing Style Comps

Combine Comps

Draft Model Likes
weight
ast rate
height
Draft Model Dislikes
ft shooting
drb rate
age
---
SR | F | 6-5 | 211 | rsci: 15 | s-ref | realgm

Statistical Profile

Playing Style Comps

Combine Comps

Draft Model Likes
shooting efficiency
2p shooting
drb rate
Draft Model Dislikes
tov rate
weight
age
---
SO | G | 6-3 | 194 | rsci: 26 | s-ref | realgm

Statistical Profile

Playing Style Comps

Combine Comps

Draft Model Likes
drb rate
weight
ft rate
Draft Model Dislikes
2p shooting
scoring rate
age
---
JR | G | 6-3 | 198 | rsci: 12 | s-ref | realgm

Statistical Profile

Playing Style Comps

Combine Comps

Draft Model Likes
2p shooting
shooting efficiency
ft shooting
Draft Model Dislikes
height
stl rate
age
---
SR | G | 6-0 | 196 | s-ref | realgm

Statistical Profile

Playing Style Comps

Combine Comps

Draft Model Likes
stl rate
drb rate
ft shooting
Draft Model Dislikes
shooting efficiency
2p shooting
age
---
SO | G | 6-3 | 198 | rsci: 43 | s-ref | realgm

Statistical Profile

Playing Style Comps

Combine Comps

Draft Model Likes
ast rate
age
ft shooting
Draft Model Dislikes
shooting efficiency
stl rate
2p shooting
---
SR | C | 7-1 | 303 | rsci: 82 | s-ref | realgm

Statistical Profile

Playing Style Comps

Combine Comps

Draft Model Likes
2p shooting
shooting efficiency
ft shooting
Draft Model Dislikes
drb rate
ast rate
age
---
SR | G | 6-0 | 186 | rsci: 65 | s-ref | realgm

Statistical Profile

Playing Style Comps

Combine Comps

Draft Model Likes
ast rate
height
tov rate
Draft Model Dislikes
2p shooting
shooting efficiency
age
---
FR | F | 6-8 | 253 | rsci: 17 | s-ref | realgm

Statistical Profile

Playing Style Comps

Combine Comps

Draft Model Likes
ft shooting
drb rate
3p rate
Draft Model Dislikes
shooting efficiency
age
weight
---
q25 = predicted 25th percentile outcome
q50 = predicted 50th percentile outcome
q75 = predicted 75th percentile outcome
q90 = predicted 90th percentile outcome
apex = average of q75 and q90
rsci = high school rank
max_ws = max single season win shares in the NBA
star = NBA All Star probability
start = NBA Starter probability (starter for >60 NBA games in a season)
role = NBA Role Player probability (played in >60 NBA games in a season)
bust = NBA Bust probability
ht = Height
wt = Weight
gs = Games Started
gp = Games Played
mpg = Minutes Per Game
ts = True Shooting Percentage
efg = Effective Field Goal Percentage
3par = 3 Point Attempt Rate
ftr = Free Throw Rate
usg = Usage Rate
bpm = Box Plus Minus
srs = Team Quality (custom metric)
sos = Strength of Schedule (custom metric)
pk = NBA Draft Pick
sim = Player Similarity
Older years do not have college game log data available, therefore the game log metrics are imputed. ↩

The definition of All Star is self-explanatory, whereas I arbitrarily defined Starter as having started 60 games in a NBA season, Role Player as having played 60 games in a NBA season, and Bust as everyone else. ↩

The like/dislike information is automatically generated by creating different models without certain pieces of data to see how a players prediction changes. It is not always perfect because of collinearity but I think I have got it tuned to do a pretty decent job at highlighting strengths and weaknesses. Let me know if you any results seem strange. ↩